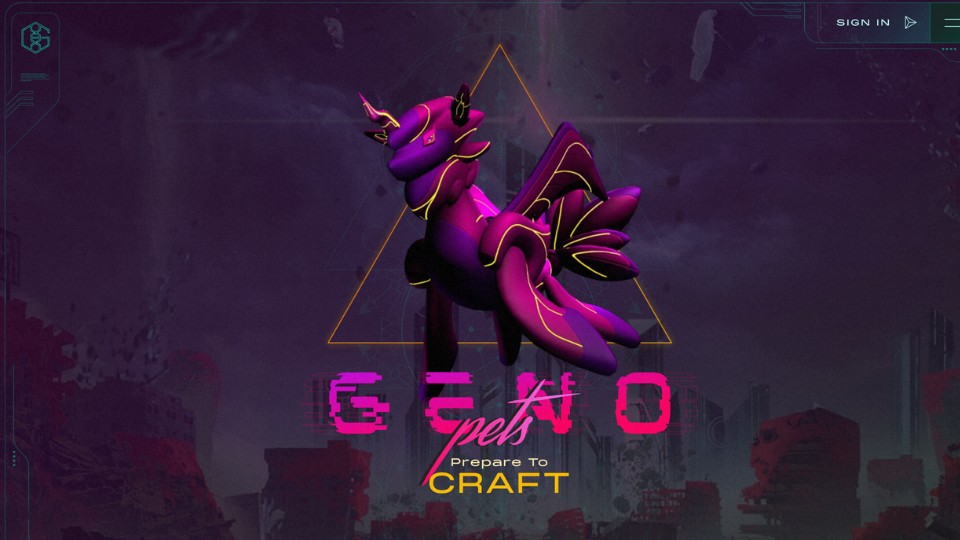 Embracing the Future of Fitness: Crypto, AI, and Fitness
Welcome to the digital age, where fitness meets cryptography and artificial intelligence (AI). As we keep making strides in technology, the world of fitness is starting to see some significant changes as tokenisation of our movements becomes real currency.
What is Fitness Crypto?
In essence, fitness crypto, or crypto fitness, is a concept combining physical fitness and cryptocurrencies. Here's the deal: You work out, you earn crypto. Sounds intriguing, right? But how does this work?
Get Fit, Earn Crypto*
*Step®'s tagline sums up the win-win situation for apps and users.The principle behind it is fairly straightforward. Move-to-earn applications incentivise physical activities by rewarding users with crypto tokens. You take a step, complete a run, or finish a workout, and you earn digital currency in return. It's all about transforming sweat into digital assets.
This approach takes the concept of proof of work from the blockchain world and applies it to fitness. Instead of solving complex mathematical problems, your body does the work, and you earn tokens. However, up until now, this has been largely reliant on location data or data from wearable devices. But what if we could make this more accurate and diverse? Pose estimation and computer vision offer quite an obvious method for proof-of-workout.
Pose Estimation and Computer Vision
Pose estimation, powered by advanced computer vision algorithms, is changing the game for move-to-earn applications. This technology can accurately track a broad range of exercises beyond steps or distance. Whether you're perfecting a yoga pose or pumping out reps on the bench press, pose estimation has got you covered.
Pose estimation uses a single camera, such as that on your phone, and uses computer vision to evaluate the movements of your body.
But here's the best part: It's not just about counting steps or miles anymore. The advent of workout rep counters means you can earn crypto for every push-up, every sit-up, or every squat you perform. This offers a whole new level of motivation for keeping fit.
AI Fitness: The Future of Move-to-Earn
Integrating AI-powered workout rep counters into move-to-earn apps is a game-changer. It provides a more engaging and personalised user experience, with immediate feedback on exercise form and progress. This means users are not only incentivised to keep moving but also to improve their technique and performance.
Moreover, the data collected through these AI fitness platforms is invaluable. It provides insights into user behaviour, preferred exercises, and workout patterns, enabling the development of features and reward systems tailored to the user's needs. So now, instead of trusting a user's button click of "completed workout", or tracking which workout videos they have watched, Apps that have actual monetary value attached to exercise will have real, private data of the user's actual body movements.
AI-powered exercise rep-counters, aside from being a mouthful, is a privacy-first, accurate, and reliable technology that can validate move-to-earn tokenisation:
On-device Machine Learning (ML) means no video data is shared with the app developers
Pose Estimation uses image data, so the user does not have to share location data.
In conclusion, the future of fitness is digital, and it's here. The combination of crypto fitness apps and AI-powered pose estimation is revolutionising the way we think about exercise and motivation. So, are you ready to step into the future? With every rep, every pose, you're not just building your strength – you're building your digital assets, too.
However; since location data is so integral to their current business models, providing an alternative to location data may not be on their list of priorities, opening up space for new fit-fi, sweat-mining, crypto-tokenising exercise apps to get in on the game.
Get Started
Ready to build your own move to earn app with pose estimation? Get started with QuickPose for accurate rep counting AI. QuickPose makes it easier than ever to integrate Pose Estimation into you app. With QuickPose, you can easily add intelligent AI-driven rep counters for workout apps.
Check out our docs here: https://docs.quickpose.ai/docs/MobileSDK
Star our Github Repository so you can find it later https://github.com/quickpose/quickpose-ios-sdk
The Best Move-to-Earn apps
With Crypto-fitness still in its infancy, here is a list of move-to-earn apps that you can use to start converting your workouts to tokens:
Step
https://www.walkwithstep.io/
With their slogan "Get Fit, Earn Crypto", Step offers users the chance to walk and earn. However, at the time of writing, (2nd June 2023) their website was down.
Calo Indoor
Calo indoor has the full NFT & Crypto platform packaged together. The gameplay includes an overview story of 3 characters and exercise games such as Reflex Game, Fit The Shape, and Jumping Challenge. Players must equip their avatars with NFT sneakers to mint cryptocurrency with exercise. Calo Fit is part of the Calo Run universe (https://calo.run/)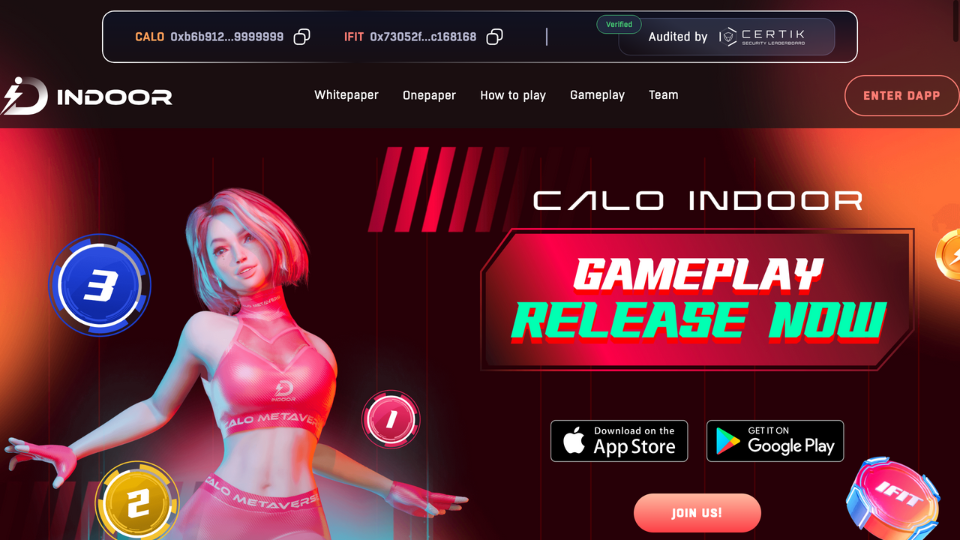 ActiFit
Actifit allows users to earn token rewards by automatically tracking your daily activity. Rewards include AFIT tokens as well as HIVE, BLURT, and SPORTS token rewards.
The DeFi twist allows yield farming.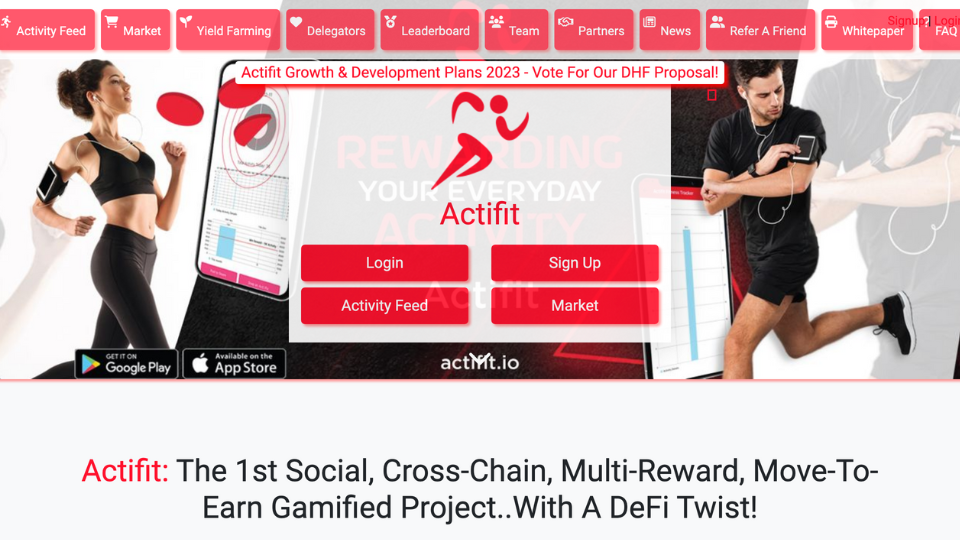 Lympo
Forging the future of Blockchain & Sport. Lympo uses their tokens LYM that incentivises users to live healthier lives. LYM holders can trade their tokens for real life fitness products and take control of their data.
Boasting a plethora of partnerships with teams and athletes, Lympo is more than move-to-earn. They are bridging the gap between GameFi, fitness, and NFTs.
GameFi refers to blockchain-based games that allow players to earn cryptocurrency tokens through gameplay. These games utilise non-fungible tokens (NFTs) as in-game assets, which provide true digital ownership, transferability, and tradability.
Lympo, a company in the GameFi space, combines GameFi with the trend of sports-themed NFTs. The sports memorabilia industry, which is part of the collectibles market, has a global value of $370 billion. The NFT market, including sports NFTs and play-to-earn NFTs, is predicted to reach a value of $75 billion by 2025. Lympo's NFTs operate at the intersection of these two categories, contributing to the growth of the overall NFT market.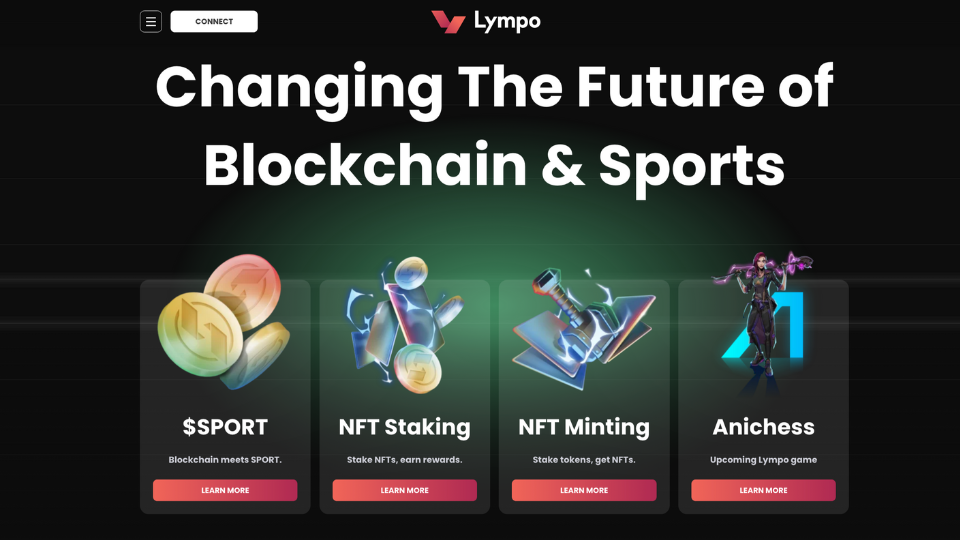 Stepn
STEPN is a Web3 lifestyle app that combines Game-Fi and Social-Fi elements. The app revolves around the daily activity of moving around, and it introduces a unique concept called "move&earn." Users can earn game currency by walking, jogging, or running outdoors, which can be used in the game or converted into real-world profit. STEPN aims to promote a healthier lifestyle, address climate change, and engage users with Web 3.0 technology through its Game-Fi features. Additionally, the app incorporates a Social-Fi aspect to create a platform for user-generated Web 3.0 content, fostering a vibrant and long-lasting community. STEPN has already achieved recognition by finishing 4th out of 500+ projects at the Solana Ignition Hackathon in 2021.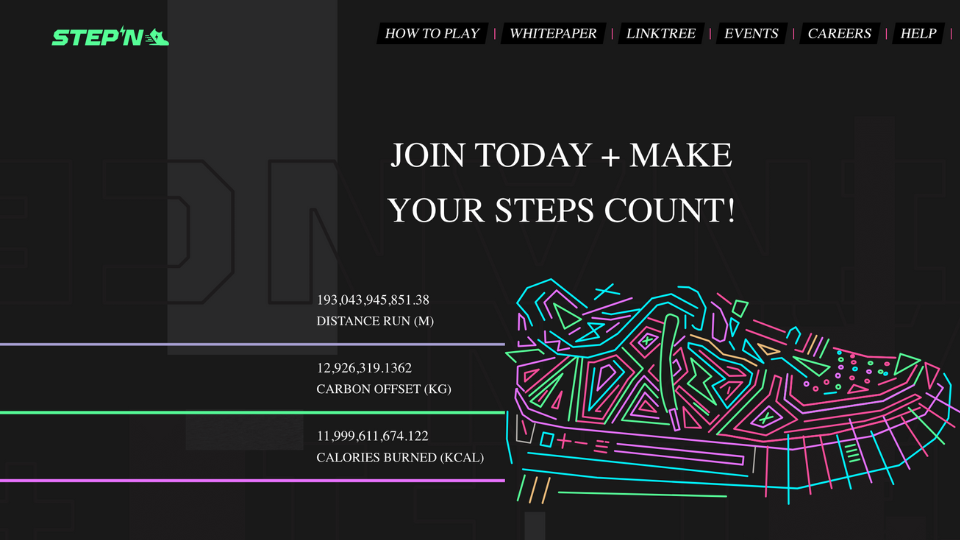 Step App
Step App is a fitness application that aims to motivate users to engage in physical activities such as running, walking, or jogging by offering rewards in the form of tokens. These tokens can be exchanged for various exciting rewards. The app offers a 7-day free trial with no hidden fees or subscription charges, allowing users to explore its features without any financial commitment. It caters to individuals of all fitness levels, making it suitable for beginners as well as experienced fitness enthusiasts. Users can participate in enjoyable local and global competitions and connect with friends to engage in group fitness activities. To begin using Step App, users need to deposit FitFi into their in-app wallet, which is required for purchasing fitness gear and unlocking additional fitness-related opportunities. Step App presents itself as an innovative approach to fitness, encouraging users to adopt a healthier and more rewarding lifestyle.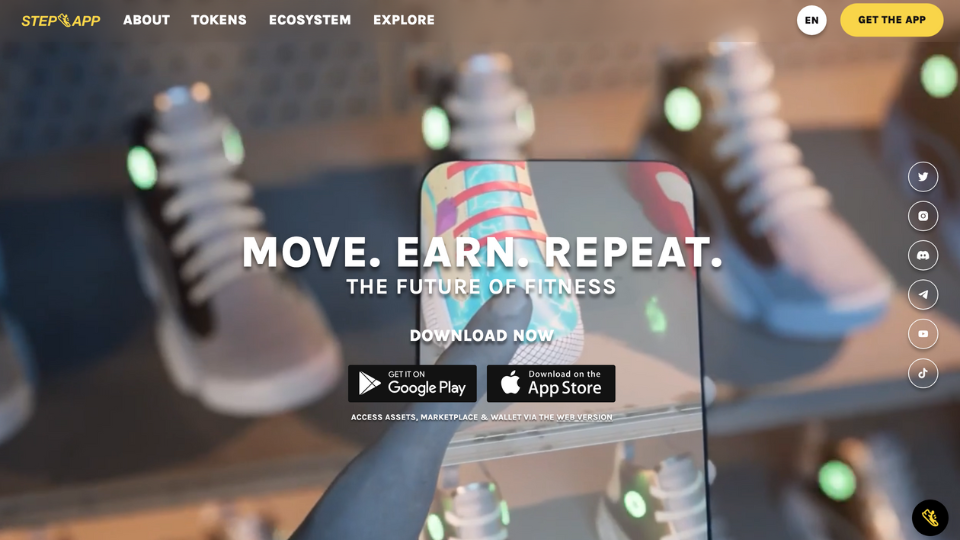 GenoPets
Genopets is a blockchain-based game developed on the Solana network, offering a free-to-play experience to its users. Drawing inspiration from popular games like Tamagotchi, Animal Crossing, and Pokemon, Genopets introduces digital pets known as Genopets, which are also non-fungible tokens (NFTs) that undergo continuous evolution based on daily activities.
Each player has the opportunity to mint one infant Genopet at no cost. By engaging in battles within the Genoverse and consistently upgrading their Genopet, players can increase its value. Similar to Pokemon, Genopets have the ability to evolve, and this evolution is influenced by XP (experience points) gained through physical movement.
The game incorporates a unique "move-to-play" feature, where the user's physical movement is converted into in-game experience (XP). These XP points can be utilised to enhance and evolve the Genopets, which can then be sold on an NFT marketplace. This innovative concept transforms the game into a "move-to-earn" title, allowing individuals to convert their daily physical activity into cryptocurrency rewards.
Exercising to improve the health and well-being of the Genopets could serve as an additional incentive for players to engage in physical activity, even on days when they might not have been inclined to do so. This aspect of gameplay adds an element of real-world impact and encourages users to adopt healthier habits while advancing in the game.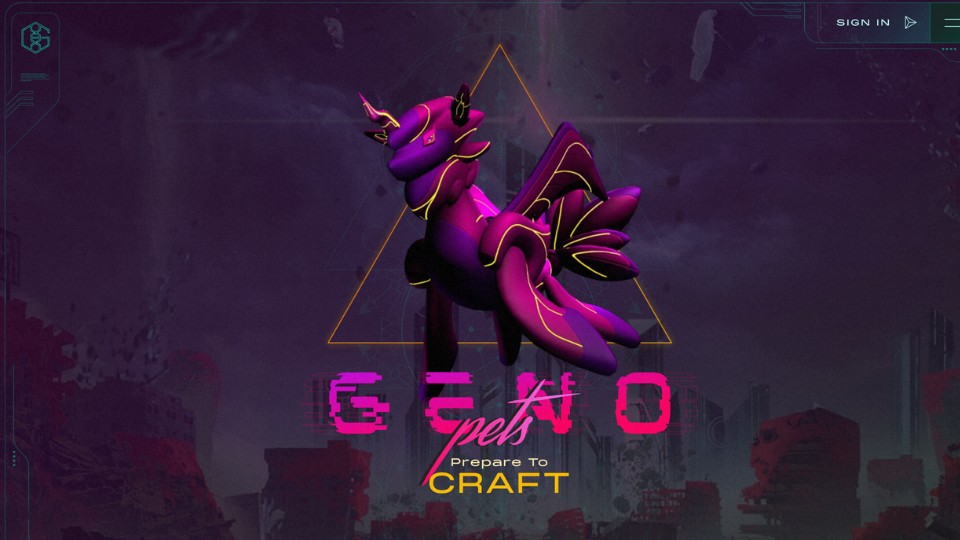 SweatCoin (and Sweat Economy)
Sweatcoin is a mobile app that rewards users for walking by converting their steps into a digital currency called Sweatcoins. By downloading the app on a phone or smartwatch, users can track their walks and earn Sweatcoins. These Sweatcoins can be exchanged for merchandise through the app's marketplace.
With over 120 million registered users, Sweatcoin has become a popular way to earn money while improving one's health. The app is available on both iOS and Android devices and uses its own algorithm to count steps, prioritising user privacy by not tracking location or sharing personal information with third parties.
The app has partnered with the UK's National Health Service to offer a Healthy Incentive program, aiming to promote sustained positive habits.
Dustland
Dustland is the world's first Proof of Workout audio game. It combines real-world running or jogging with virtual rewards to create an immersive gaming experience. The game features four fundamental elements: Fitness First, which includes a tracking metric app for setting fitness goals; an Immersive Narrative Mystery that unfolds as players progress; full freedom of action in terms of earning, including the ability to sell $DOSE tokens and NFTs; and a free economy that allows players to start the game without any cost. Completing runs in the real world earns players virtual rewards, such as NFTs and $DOSE tokens, which can be used to upgrade and advance their adventure. Dustland offers a unique and engaging way to combine physical activity with virtual gaming experiences.
Dustland now offers cycling as well as running; users can connect their various e-bike devices into the game.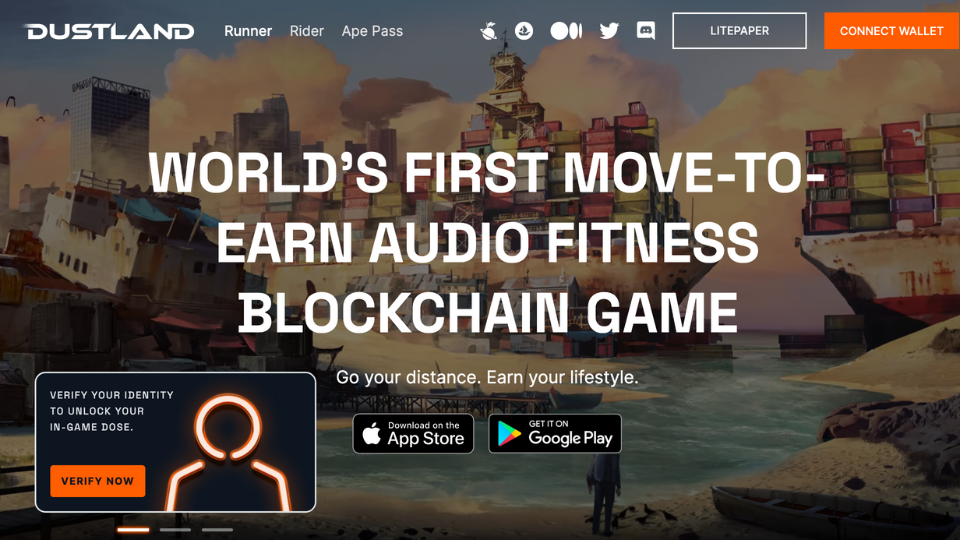 Dotmoovs
Dotmoovs (MOOV) is a blockchain-powered platform that facilitates peer-to-peer sports competitions. The project utilises its advanced AI system to analyse videos of players engaged in various sports events. By participating and winning these competitions, players have the opportunity to earn additional NFT collectibles.
Dotmoovs stands out by integrating its proprietary technology with blockchain, the native cryptocurrency MOOV, and NFT collectibles to deliver AI solutions. These solutions include AI-driven video referees and fraud detection algorithms, which monitor practice sessions and sports challenges.
Dotmoovs currently supports football and dance, with fitness challenges coming soon.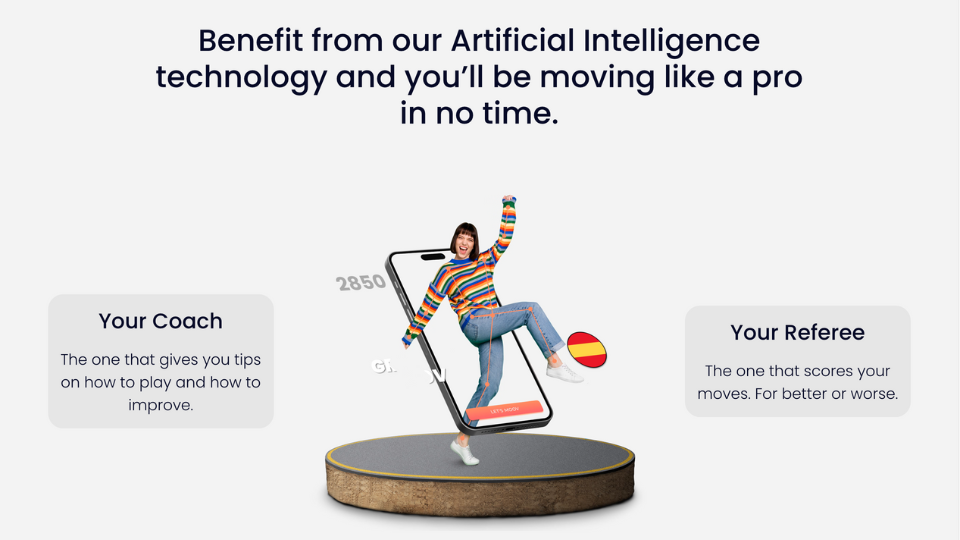 Wirtual
Wirtual offers a range of challenges in activities such as running, walking, swimming, cycling, dancing, and working out.
The platform enables users to mine WIRTUAL Coins by tracking their activities such as running, walking, swimming, cycling, dancing, or working out using popular fitness devices like Strava, Fitbit, Garmin, Apple Health, and Huawei Health. By engaging in these physical activities and utilizing their existing fitness trackers, users can earn WIRTUAL Coins.
Wirtual also offers partnerships for brands or companies hosting events, allowing them to create challenges that participants can join.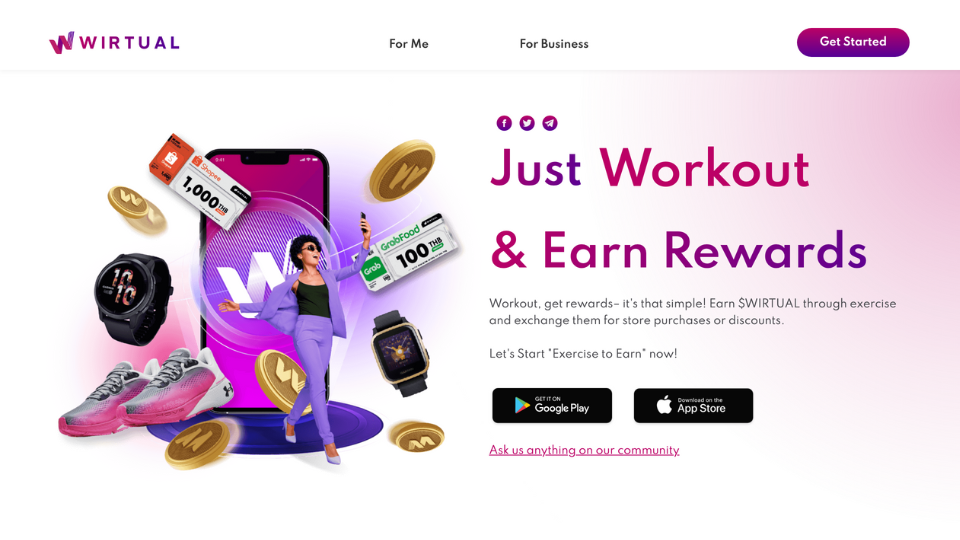 VICMOVE
Vicmove is a web3 fitness and lifestyle mobile app that revolutionizes the fitness industry by incorporating NFT gaming and Social-fi elements. Users can earn rewards in the form of Crypto/NFTs by engaging in physical activities like walking, running, and cycling. The app allows users to mint an NFT in the form of sneakers and earn in-game cryptocurrency through their movement. This currency can be used within the app or converted into real-world profit. Vicmove addresses common challenges in fitness, such as lack of motivation, social interaction, and instant gratification. The app's mission is to encourage individuals to adopt a healthy and active lifestyle by leveraging the tools and benefits of web 3.0, including NFT gaming, a global currency, and community engagement.
Their roadmap does not suggest they will add pose estimation into the app in 2023.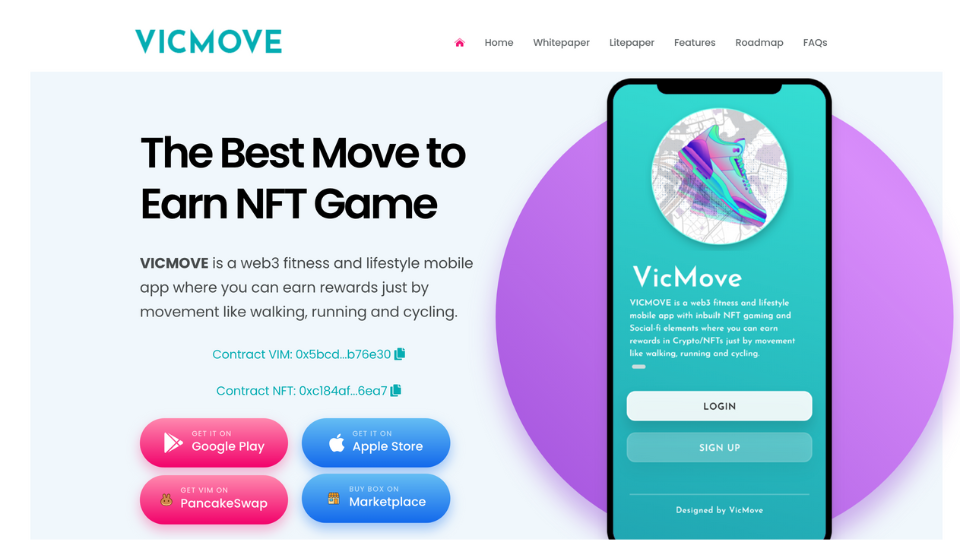 DEFIT
DEFIT is a prominent fitness coin that positions itself as the leading platform in the fitness industry. Users have the opportunity to earn DEFIT coins by connecting their wearable devices such as Apple Watch, Samsung Galaxy Watch, Garmin, Google Fit, Polar, Suunto, COROS, Zwift, Wahoo, and Strava. By owning 3000 DEFIT coins, users can join exclusive clubs where the total distance covered by club members is combined, fostering a sense of community and shared mission. DEFIT offers an engaging platform that incentivizes physical activity, promotes community interaction, and rewards users for their fitness efforts.
Fitcoin
Fitcoin is a groundbreaking fitness application that introduces a unique concept called "Burn-2-Earn." The app tokenises the calorie burn of players within an immersive proof-of-workout RPG (role-playing game) environment. Fitcoin combines fitness with familiar technology, offering Web3 education through engaging fitness experiences.
Fitcoin also offers exclusive community challenges for its users. Participants can take part in daily, weekly, and monthly challenges, with top-performing athletes earning incredible rewards and performance-enhancing NFTs (non-fungible tokens).
As a revolutionary fitness application, Fitcoin pays users in cryptocurrency on the Ethereum blockchain based on their calorie burn. By integrating fitness and blockchain technology, Fitcoin provides a unique and rewarding approach to staying active and achieving fitness goals.
Currently Fitcoin are offering Early Access only to their MVP.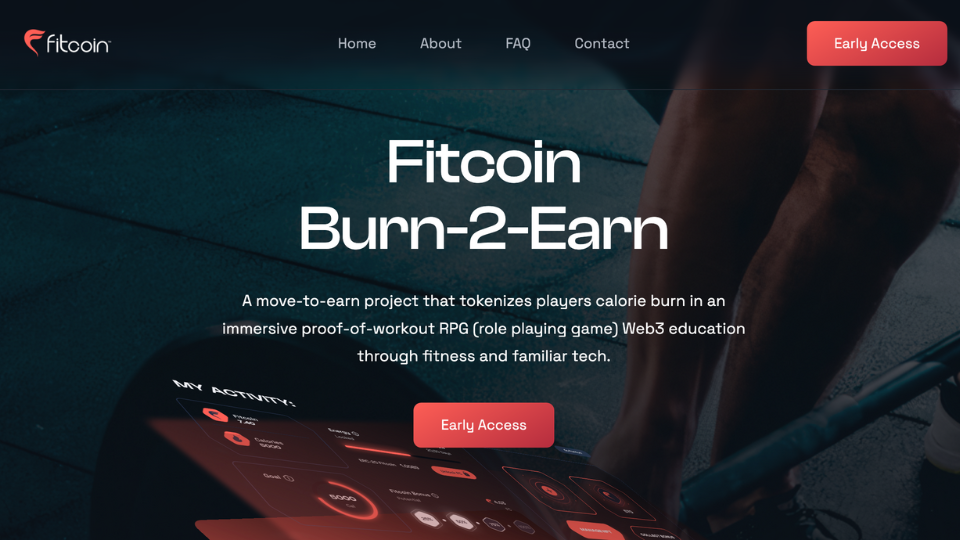 LifeCoin
LifeCoin is a mobile app that incentivises users to stay active and earn rewards. By simply walking and having their steps confirmed through GPS, users can collect LifeCoins. The more steps they take, the more LifeCoins they earn. These LifeCoins can be exchanged for a variety of prizes, including gift cards and sporting goods, with new items continuously added to the selection. LifeCoin is developed by Azumio, a company known for creating AI-powered health applications. With their expertise in AI solutions, LifeCoin provides users with a next-generation approach to health and fitness, encouraging physical activity and offering tangible rewards for maintaining an active lifestyle.